HOW THE VICTORY CREATES
End-to-End Solutions
Victory
A durable, affordable, and portable device with an integrated printer,
the Curbpay Victory expands the definition of point of sale.
Estate Management
Ensure your payment terminals are always ready to support your
business with our centralised terminal management system.
EASE OF USE
Smart
secure &
well connected
Victory can take your business
wherever you need it to go.
Sign up Now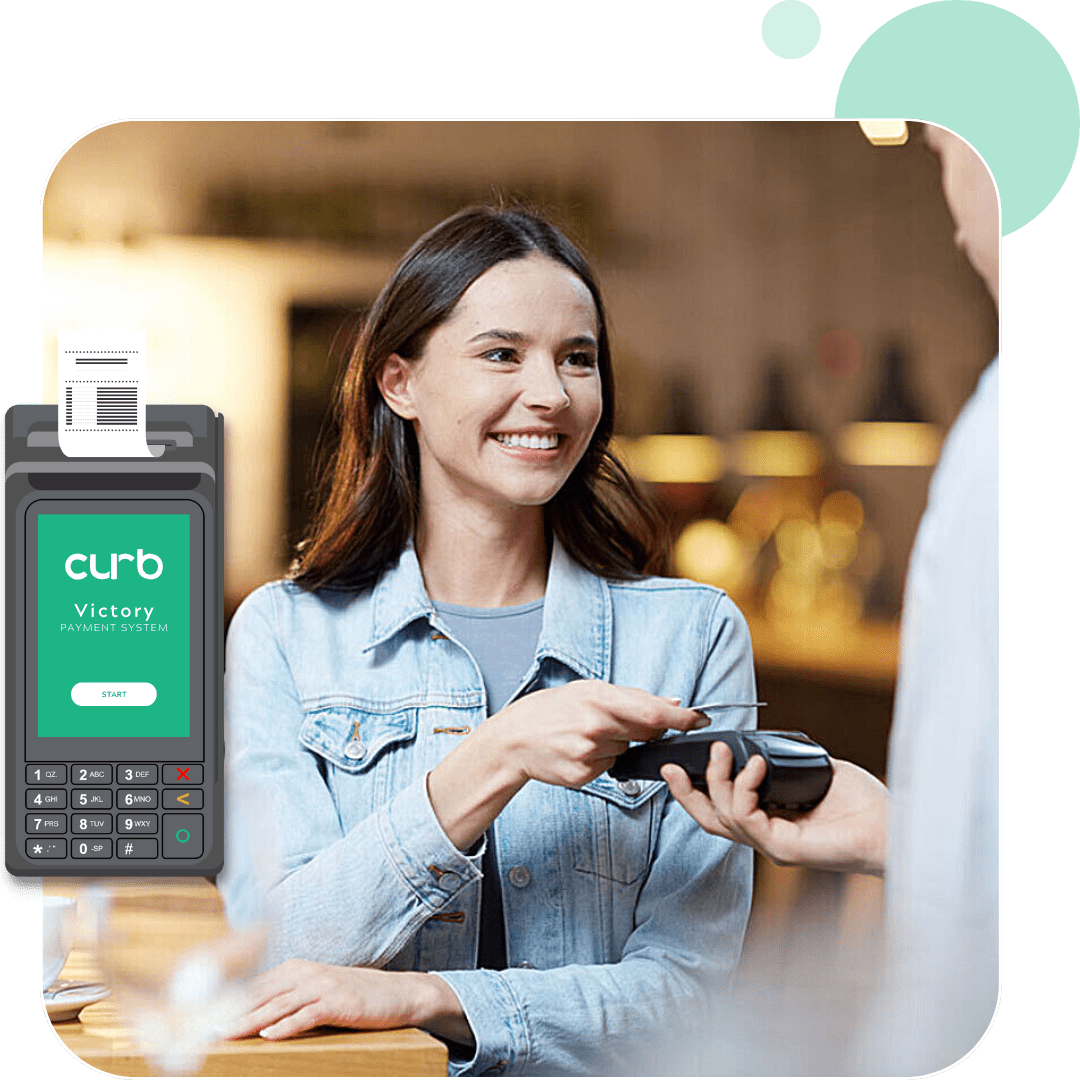 User friendly
Offers a large colour touchscreen for display impact and ease of use for the user.
Self-boarding
Simply connect the terminal, charge, and it's ready to go for each store.
Non-stop service
Field replacement battery is ideal for 24/7 service, peak-time queue busting.
Connected
Wifi, 3G, and beacon technology ensures continued connectivity and processing.
Remote monitoring delivers the proactive support you need
Continuous status updates are sent remotely from your terminal to our support team every 5 minutes.
Low battery, printer or keypad errors are raised as red flags and are resolved by our dedicated support team.
Our smart system monitors:
Automatic terminal report issues
Connectivity issues
Regular automated software updates
KEY FEATURES
Benefits of Victory
RICH, MULTIMEDIA
CAPABILITIES
RICH, MULTIMEDIA
CAPABILITIES
BUILT FOR INTERACTION AND PORTABILITY
Durable.

Portable
& Affordable
The Victory is a high-powered, yet a compact device that can rest comfortably in your hand. At the table, mobile and for queue-busting, Victory is a perfect on-the-go solution. Victory brings the convenience and ease of use you'd expect from a portable, plus its large 3.5" capacitive touchscreen and stunning HVGA resolution will open your business to new commerce opportunities. With multiple connectivity options and ample memory to support rich multimedia apps, Victory can take your business wherever you need it to go.
Sign up now
Maximum security
The Verifone® Victory is PCI PTS 5.x approved to the highest level of global security certification.
Extremely robust
Victory can be standalone or moulded to fit an endless array of POS needs.
Flexible connectivity
WiFi and Bluetooth® with low energy allow for convenient wireless payments.
BEST IN THE MARKET
Our transaction fees
1.5%
Credit & Debit card rate